Is YouGov Legit? The Ultimate YouGov Review 2023
In the ever-evolving world of online survey sites and market research, the quest for a legitimate and reliable platform continues to be a priority for both businesses and consumers alike. As we steer into 2023, we cannot help but to examine the YouGov website, one of the most prominent names in the industry. Is it too good to be true or is it the ultimate solution for gathering crucial insights? Buckle up and join us as we delve into the depths of YouGov's legitimacy, effectiveness, and the factors that make it stand out amongst a plethora of other survey sites in the digital universe.
What Is YouGov?
YouGov is a global public opinion and data company. It was founded in the United Kingdom and has operations in Europe, North America, and other parts of the world. YouGov uses something called Active Sampling for its commercial work, including all surveys conducted online. Through this method, YouGov collects data from millions of people around the world to provide insights into what people think about different topics.
YouGov also has an app available on both iOS and Android devices. This app allows users to earn points by answering interesting surveys and redeeming their rewards within the app. Additionally, YouGov conducts polls to assess perceptions of electoral fairness and the potential for political reconciliation.
By joining the YouGov community, you can share your opinion on various topics and help shape public opinion around the world.
Who Created YouGov?
YouGov was founded in the UK in May 2000 by Stephan Shakespeare and the future UK Chancellor of the Exchequer Nadhim Zahawi. The two first met while working on a project for the Conservative Party, and decided to create a company that would revolutionize market research.
YouGov quickly became known for its innovative approach to polling, using internet-based surveys to measure public opinion on brands, public affairs, and politics. The company is currently led by German-born Stephan Shakespeare, who also founded online television channels PoliticsHome and 18 Doughty Street.
In 2001 YouGov engaged BBC political editor Andrew Marr as their first director of communications. They have since grown into one of the most well-known polling and survey companies in the world, with investments from Numis Securities and other sources.
Today YouGov continues to be a leader in market research and opinion polling, providing insights into public opinion on issues ranging from politics to consumer trends.
Top Benefits Of YouGov?
Here are some of the top benefits of using YouGov to earn money:
Accessible surveys: YouGov's official app allows you to answer surveys from any location, meaning you can fit earning money into your schedule.
Competitive payment rates: YouGov offers competitive payouts for completing surveys, making it an attractive option for people looking to earn extra cash.
Wide variety of topics: YouGov covers a wide range of topics, from politics and current affairs to consumer trends. This means there should always be something that interests you on the platform.
Cash-out options: YouGov members have several options when it comes to redeeming rewards, including PayPal, Amazon vouchers, or bank transfers.
By taking advantage of these benefits of using YouGov, you can easily earn extra cash in your free time.
Best Features Of YouGov?
Here are some of the best features that make YouGov a great option for those looking to earn money:
Easy signup process: YouGov's registration process is straightforward and only takes a few minutes to complete.
Variety of surveys: YouGov offers a variety of surveys on different topics, so you can always find something interesting to participate in.
Fast payment processing: With YouGov, payments are processed quickly, and rewards are typically sent within 48 hours.
Earn points and redeem rewards: As you complete surveys, you will be rewarded with points that you can use to redeem rewards such as gift cards or cash prizes.
YouGov Alternatives
Flashrewards

Flashrewards is an intriguing survey site that offers a unique approach to gaining rewards online. Aimed at individuals keen to earn gift cards redeem points or even cold, hard cash, this website is a one-stop destination for those on the lookout for user-friendly methods to boost their earnings. The best part is that flashrewards.co understands the importance of catering to diverse interests, which is why you'll find a plethora of lucrative opportunities ranging from fun activities like paid surveys and games to simple tasks like watching videos. What sets Flashrewards apart from the crowd is the seamless experience it provides to its users, ensuring that every second spent on the platform is not only enjoyable but also fruitful. So, if you've been searching for an innovative way to make a little extra on the side without stepping out of the comfort of your home, Flashrewards might just be the answer you've been waiting for.
Prolific Surveys

Prolific Surveys is one of many survey sites designed to connect researchers and participants in a seamless environment, allowing for meaningful and insightful data collection. With a user-friendly interface and a diverse pool of participants, Prolific Surveys ensures that researchers have access to a vast array of perspectives, ultimately enriching their studies and findings. The platform caters to a wide range of disciplines, from social sciences to marketing research, empowering market research companies by providing them with a reliable source of accurate and authentic responses. In return, participants are fairly compensated for most surveys and have the opportunity to contribute to valuable research projects, fostering a sense of community and collaboratively advancing knowledge across various fields of interest.
Swagbucks

Swagbucks is an incredibly popular rewards program that has captivated the interest of many people seeking to earn a few extra coins in their spare time. By participating in various online activities such as shopping, taking surveys, watching videos, and even playing games, users can earn points known as "Swag Bucks" which can be redeemed for amazing rewards like gift cards and cash. The platform tends to be a delightful fusion of leisure and profit-making, as users engage with their hobbies and interests while simultaneously reaping financial benefits. To sweeten the experience, Swagbucks offers a user-friendly, interactive interface that encourages people to keep coming back for more, making it an enjoyable and efficient way to supplement one's income.
InboxDollars

InboxDollars is an enticing platform that opens up an array of opportunities for people on the lookout to make some extra cash in their spare time. The concept is as fascinating as it is beneficial, offering simple tasks and activities, such as taking surveys, participating in paid offers, or engaging with promotional emails. With these effortlessly enjoyable tasks, users get to earn rewards in the form of actual dollars! The ease of use and diverse options have made InboxDollars a popular choice among those who want to supplement their income in a fun and engaging way. Thousands of users already trust and reap the benefits from this application, making it worthwhile for new users to dip their toes into the world of InboxDollars.
Mypoints

MyPoints is a captivating platform that allows users to earn exciting rewards, including gift cards and even cash, just by participating in various online activities. Whether it's shopping through their partnered retailers or taking online surveys, every activity you engage in through MyPoints helps you accumulate valuable reward points. What makes this platform even more appealing is the wide range of rewards that cater to the diverse interests of its users, from a gift card and restaurant vouchers to popular online shopping sites like Amazon. MyPoints is a fantastic opportunity for those seeking additional perks while indulging in everyday online tasks or for anyone looking for a fun approach to earn some extra benefits.
YouGov Testimonials
Other Peoples' Experience With YouGov
The overall Trustpilot score of 4.1 is very good, considering it is an average out of 5914 YouGov reviews in the survey site niche.
Let's take a look at the good and bad things people have to say about this paid survey site.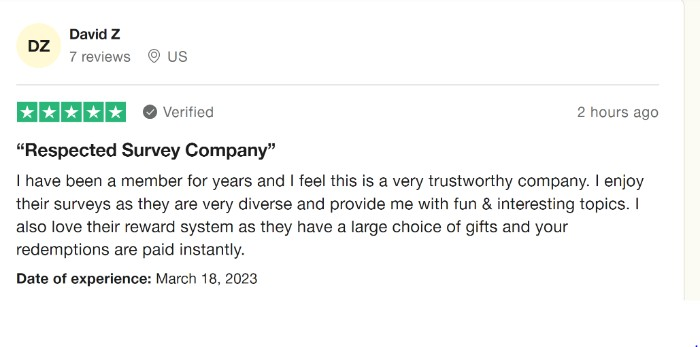 This review tells you that YouGov is a legit survey site, that really does relevant surveys and pays you for completing surveys and other tasks.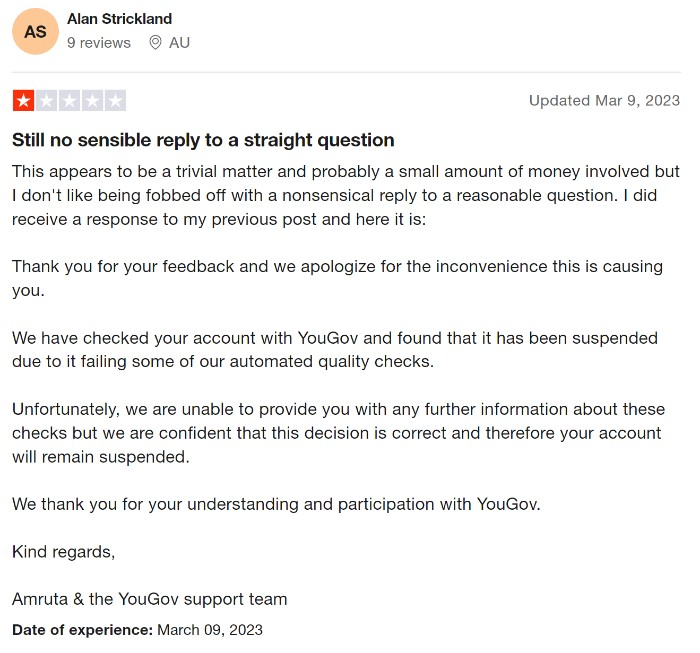 This review on the other hand tells you that YouGov is quick to block your account and provide no further information on it, which can be very annoying, especially if you worked so hard to complete a lot of YouGov surveys to finally get your first $25 cash out.
Conclusion: Should You Try YouGov?
In conclusion, in this YouGov review, you discovered that it is an exemplary yet underrated and underutilized competitor in the survey industry. They provide a wealth of useful information on a wide range of topics and offer an easy platform for individuals to quickly make money through surveys. Furthermore, their international presence has added additional global value, making them a more relevant worldwide service provider. The few drawbacks mainly stem from the occasional technical errors during usage or occasional screening failures due to demographic requirements, nevertheless, they have maintained good standing among users over time with their ever-improving dashboards and features. There are definitely some great alternatives out there for paid survey sites as well such as Survey Junkie or Swagbucks, but what sets YouGov apart are its best features such as private data protection and quick retrieval of points conversion systems. Ultimately, it's up to the user to decide what service works best for their needs – that's why I'm interested in hearing your feedback so don't forget to leave your comments about YouGov below!
Please follow and like us: