6 Best NSFW AI Art Generator Tools In 2023
Are you curious about the world of NSFW images and how AI image generators can bring them to life?
Pornpen.ai
PornX
PixAI
Look no further.
In this blog post, I am excited to introduce you to the 6 best NSFW AI art generators in 2023. Thanks to advancements in technology, these tools are able to generate realistic images that are sure to spark your imagination. Whether you're an artist, designer, or just looking for a way to explore your creative side, these NSFW image generators have the potential to take your work to the next level.
So, sit back and read on to discover the top tools that can help you create breathtaking and lifelike NSFW images.
What Is NSFW AI Art?
NSFW AI Art, also known as Not Safe for Work AI Art, refers to the use of artificial intelligence algorithms to generate adult or explicit images. These images can range from realistic-looking photos of people engaging in sexual activities to more abstract and surreal artworks featuring nudity or eroticism.
NSFW AI Art is made possible by recent advances in machine learning and computer vision, which allow AI image generators to create increasingly convincing and sophisticated visual content.
While NSFW AI Art can be controversial and raise ethical questions around consent and representation, it also offers new possibilities for creative expression and exploring human sexuality through a new lens.
Here Are The Best NSFW AI art generators
OnlyFansAI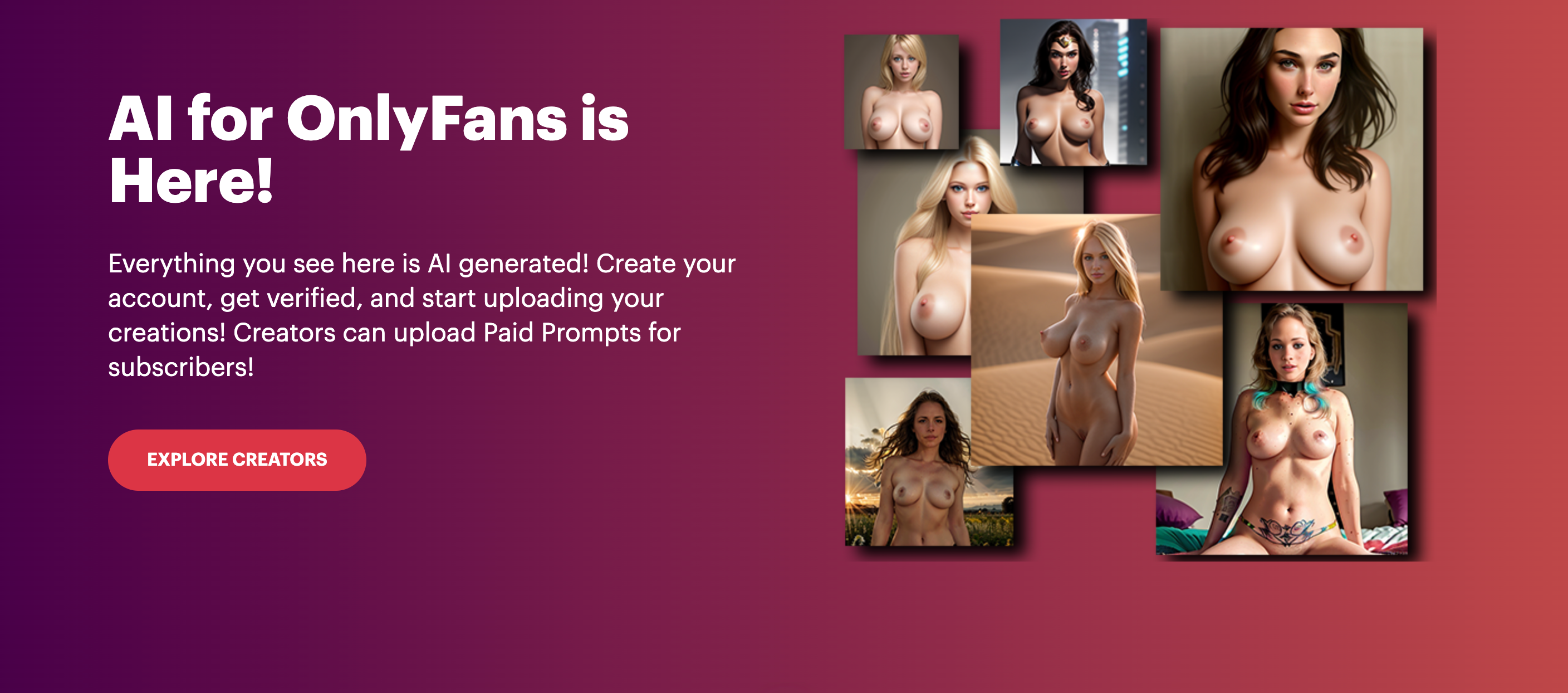 OnlyFansAI.net is not just an ordinary website that offers adult images generated by AI technology. It also serves as a marketplace for text prompts that can be used to create customized NSFW AI images. With this unique feature, users can subscribe to their favorite creators and access their exclusive text prompts to generate personalized adult images.
When you subscribe to a creator, they earn money through your subscription, making it a win-win situation for both parties. With this innovative approach, OnlyFansAI.net offers a new way to access and create adult images through an AI image generator while also supporting creators in the industry.
Key Benefits
Wide variety of content creators and text prompts to choose from, ensuring a diverse range of high quality AI-generated adult images.
Easy subscription process to individual creators, allowing you to see their specific prompts and receive tailored content.
Creators earn money through your subscription, incentivizing them to continue creating high-quality prompts and content.
Affordable subscription pricing, making it accessible for users with various budgets.
User-friendly website interface for a seamless browsing and subscription experience.
Pricing
OnlyFansAI.net offers the possibility to unlock premium posts or to subscribe to free posts of creators.
Free: you can see the AI generated images of the creator but not the prompt.
Premium: 10$ for all access with the used prompts.
PornPenAI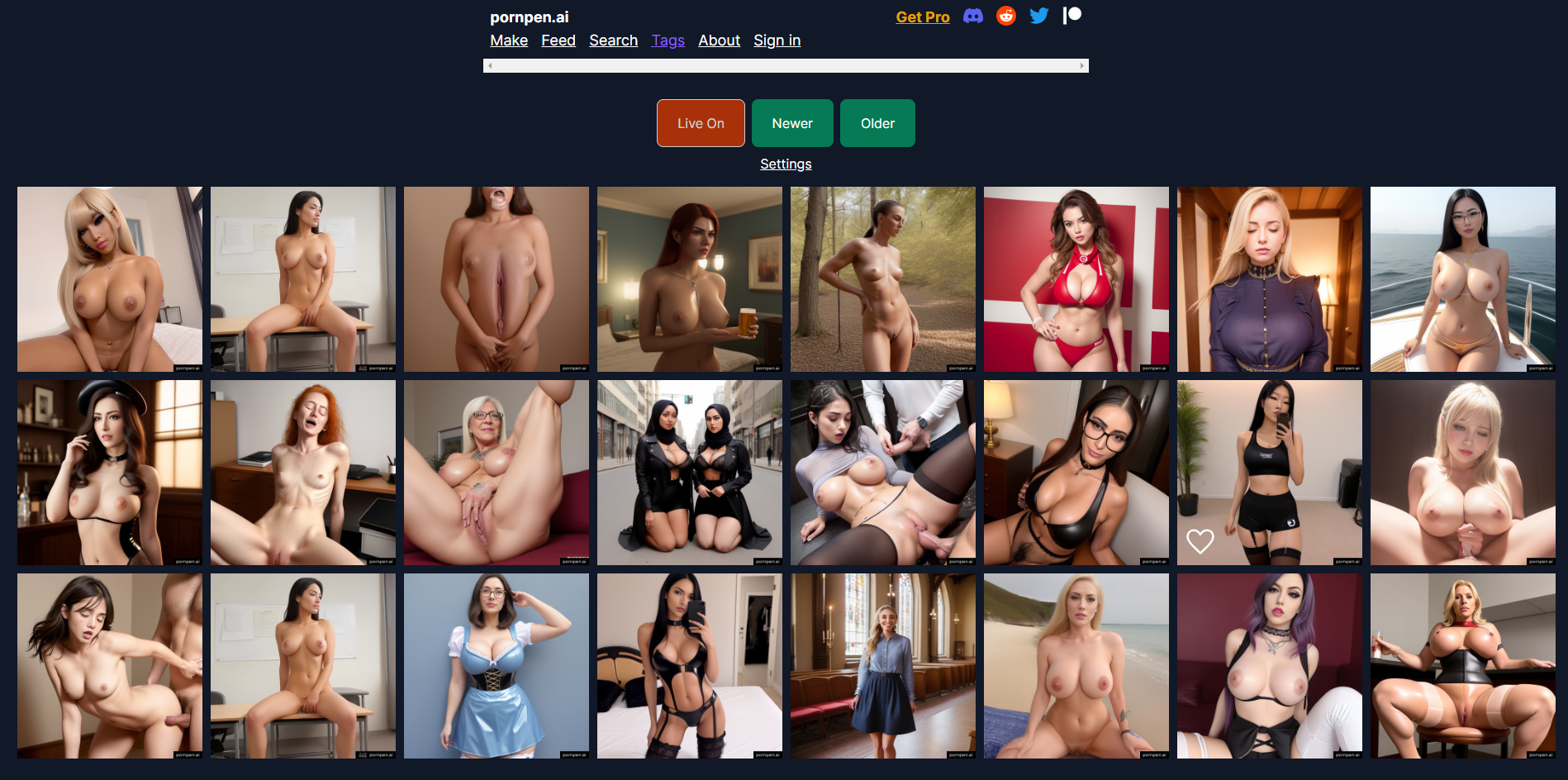 Pornpen.ai is a website that utilizes AI technology to create realistic images of models. This website is designed to offer you high-quality generated images that are almost as good as the real thing. The best part about this website is that you don't have to worry about the model's consent, as the AI generates the images based on pre-existing data.
This makes it a safe option for those who don't want to support or participate in non-consensual activities. With Pornpen.ai, you can have access to a wide range of models and images that can fulfill your wildest fantasies.
Key Benefits
Free pre-made tags: pornpen.ai offers a large collection of pre-made tags that you can use to design your own AI-generated images.
Access to others' creations: You can view the creations of other users for free in the feed, giving you inspiration and ideas for your own designs.
Easy search: The website allows you to search for created art, making it easy to find what you're looking for.
Pricing
Pornpen.ai offers the possibility to get pro mode or to create pornographic images for free.
Free: you can use the image generator with a lot of pre-made tags.
Pro Mode: get 12 extra features when creating your images for $15/month.
SoulGenAI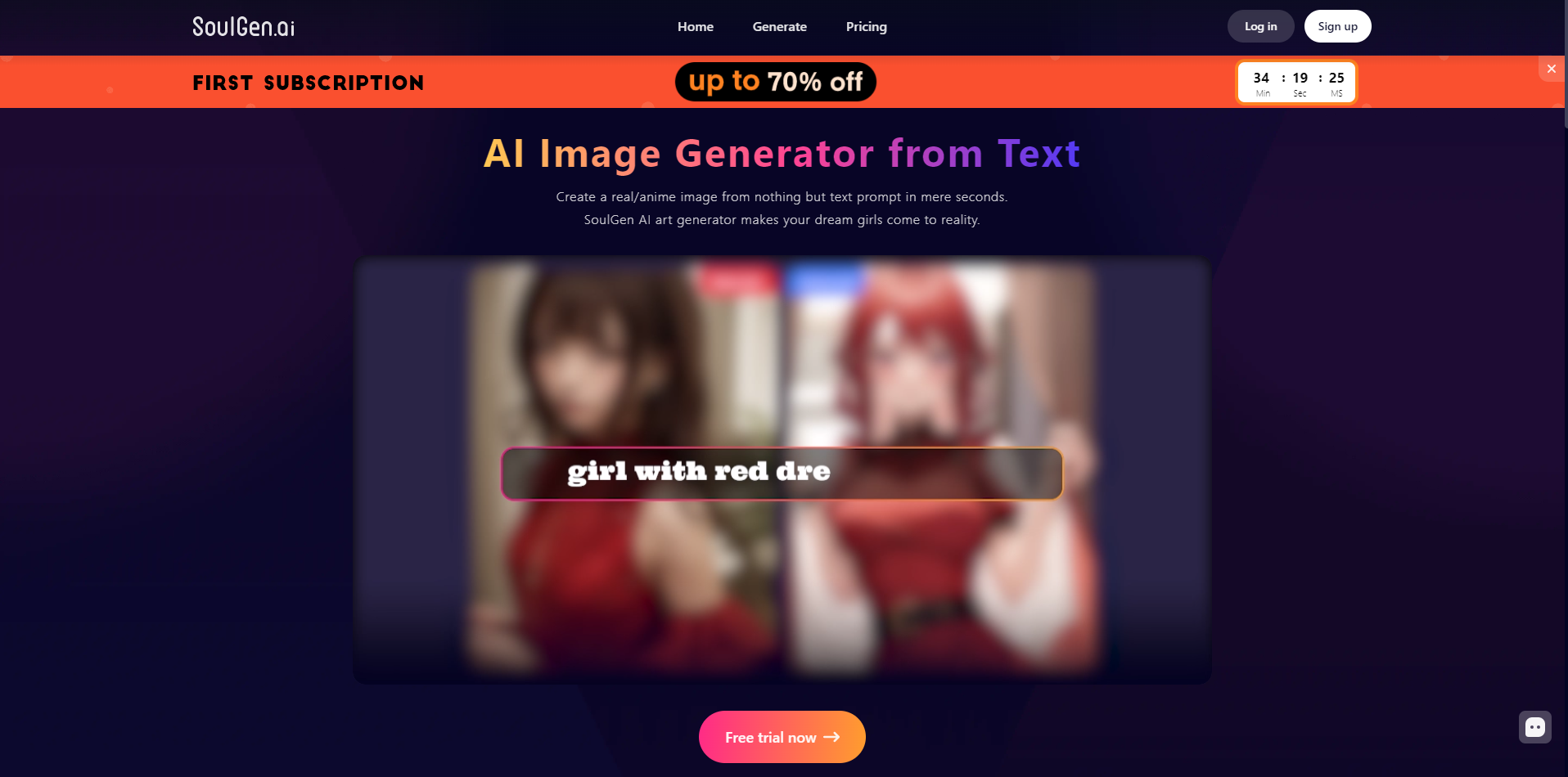 Soulgen.ai is a website that specializes in generating anime-style images using AI. The website allows users to submit their own prompts and get custom images generated. With its advanced AI algorithms, the images generated by Soulgen.ai are incredibly realistic and high-quality.
Users can also browse through the website's gallery to see the impressive work done by other creators, or even purchase some of their favorite images for a fee. The website is easy to navigate and provides users with an intuitive interface that makes it easy to submit their prompts and start generating their own anime-style images.
Key Benefits
Creates anime-style as well as realistic NSFW images.
Offers a free trial to test out the AI image generator so you know what you're getting before purchasing.
Allows users to enter their own description or choose from pre-made prompts to generate images for ease of use.
Pricing
Pornpen.ai offers the possibility to get pro mode or to create pornographic images for free.
Free: you can use the image generator but the art will be watermarked.
Pro: 100 credits per month for $9/month or $69.99/month.
PornJourneyAI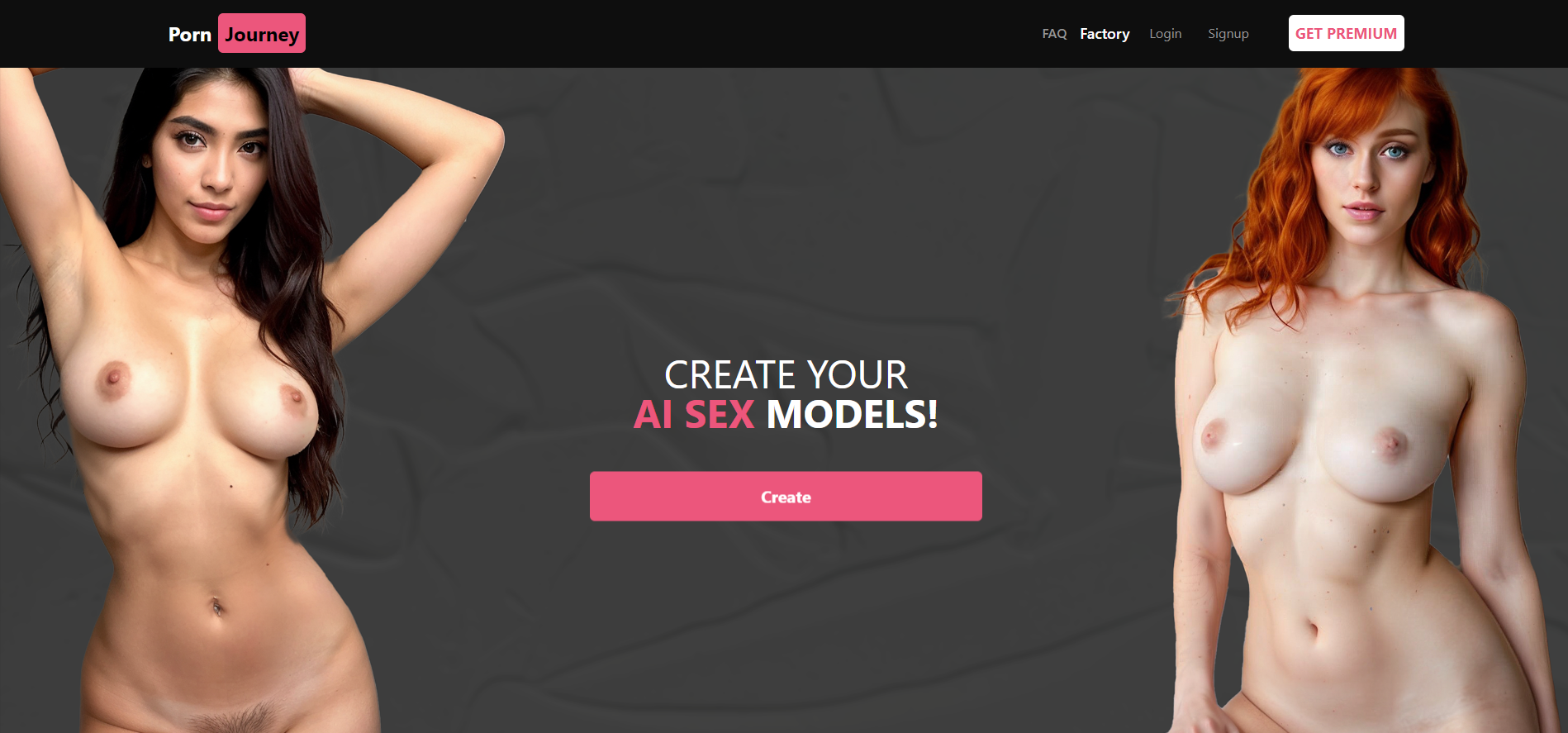 Pornjourney.ai is another powerful tool for creating NSFW AI art. With this website, you can create your own AI sex models, and then choose between realistic or anime hentai images. The website provides a wide range of pre-made prompts to help you get started, or you can enter your own prompts to create something truly unique.
The generated images are high-quality and realistic, making them a great tool for artists and designers looking to create NSFW content. Whether you're creating art for personal use or for commercial purposes, Pornjourney.ai is a great choice for generating high-quality NSFW AI art.
Key Benefits
Provides highly realistic sex models that can be used to generate a variety of NSFW images.
Offers a free plan that allows for unlimited image generation.
Straightforward image generation process with pre-made tags that can be easily applied.
Allows users to choose between realistic or anime/hentai-style images.
Advanced customization options available, including adjustable body types and features such as breasts and genitals.
Pricing
Pornjourney.ai offers a premium plan or a free version with unlimited generations.
Free: you can use the image generator but your prompts are limited, you don't have access to new features and your image generation is slower.
Premium: For $17.85/month you get access to all the premium features.
PornX.AI
Pornx.ai is a powerful tool for creating NSFW content. By giving the tool your prompts, you can create both realistic and stunning images. Additionally, as a gold member, you can create 4K quality images.
One of the best parts about Pornx.ai is their Discord community, which provides a space for creators to connect, share tips, and showcase their work. Whether you're just starting out or looking to take your NSFW creations to the next level, Pornx.ai is definitely worth considering.
Key Benefits
Create 4K quality NSFW realistic images by inputting prompts
Gold members can create NSFW images high speed
Discord community for support and sharing
Change clothes, body, face, and more with just a brush
Pricing
Pornx.ai offers a gold plan, silver plan or a free version with unlimited generations.
Free: you can use the image generator completely for free.
Silver: For $11.50/month you get access to faster and better quality generation.
Gold: For $19.50/month you get access to the fastest and best quality generation, as well as custom prompts.
PixAI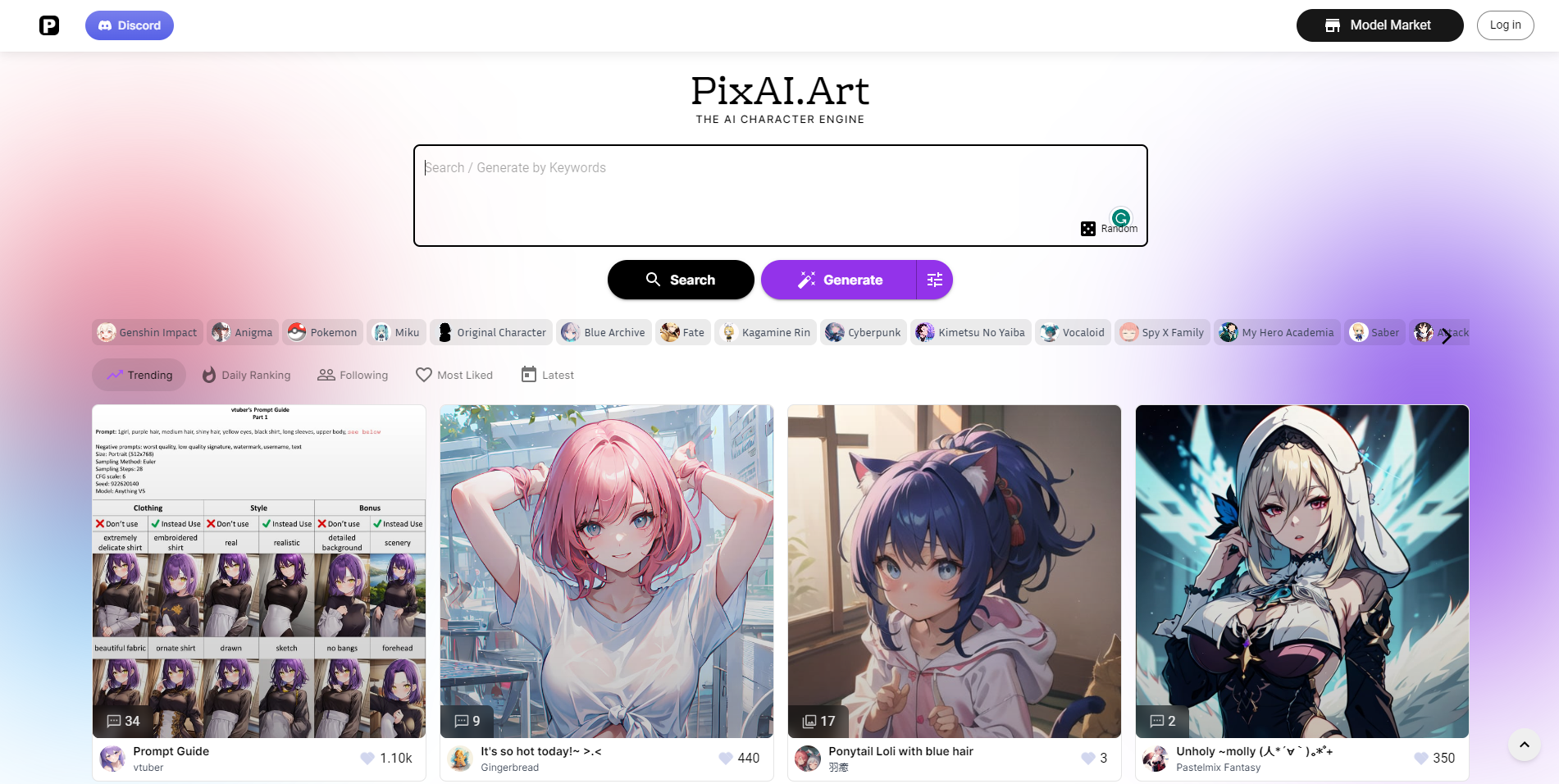 Pixai.art is a popular AI art generator that specializes in anime-themed NSFW art. It offers an easy-to-use interface that allows users to generate NSFW images by inputting keywords and prompts. Additionally, the website allows users to blur the NSFW images for privacy purposes. Pixai.art has gained a reputation for being one of the most sophisticated AI art generators, with a growing community of users who enjoy its anime-focused NSFW art. If you are an anime fan looking for an AI art generator that can create beautiful NSFW art, then Pixai.art is definitely worth checking out.
Key Benefits
Anime-focused NSFW art generator
Image creation with keywords and prompts
Option to blur NSFW images
Sophisticated user interface
Ability to choose specific anime for a unique touch
Large Discord community for support and feedback.
Pricing
Pixai.art offers no paid plan everything is free but credits are used which can be acquired through specific tasks.
Free: you can use the image generator completely for free.
How Can NSFW AI Art Generators Benefit You?
Artificial intelligence (AI) has been used to create NSFW art for a few years now. However, the technology is continuously evolving, and the results are becoming more impressive than ever before. NSFW AI art generators can benefit anyone who is interested in creating or viewing adult images. With these image generators, you can create customized adult images based on your preferences, such as hair color, body type, and more.
Additionally, AI art generators offer a level of anonymity that traditional methods of creating or viewing adult content cannot provide. As the technology advances, NSFW AI art generators will continue to offer even more realistic and personalized images for those interested in this type of content.
Can stable diffusion generate NSFW?
Stable diffusion is an AI-based technology that can generate high-quality images from a simple text prompt. With stable diffusion, users can create images that look incredibly realistic. However, the question remains whether stable diffusion can be used to generate NSFW images.
While the technology is not inherently designed for that purpose, some users have attempted to use it for NSFW content creation. According to this article on Medium, people have successfully generated NSFW images with Stable Diffusion, so the short answer to the question is yes.
Conclusion
NSFW AI art generator tools have come a long way in recent years, offering users the ability to create highly realistic and personalized adult images with ease. With the six tools I've highlighted in this blog post, you have access to some of the most innovative and exciting NSFW AI art generator tools on the market today. Whether you're looking to create anime or realistic images, generate NSFW images from text prompts, or simply explore the work of other creators, these tools have you covered. So why not give them a try and see what kind of NSFW art you can come up with? Just remember to always use these tools responsibly and with respect for others.
Please follow and like us: