Prolific Surveys Review 2023
Are you looking to make money by taking surveys? Have you considered prolific.co as an option? Here's a review of the prolific survey platform in 2023, so you can get all the info you need and decide if this is right for your own circumstances. Prolific.co offers one of the highest payouts per survey out there and has had large numbers of satisfied participants since it first launched. That being said, let's dig into my comprehensive prolific.co review, to answer the question "is prolific legit?" and to discover what makes it so popular with researchers, participants, and companies alike!
What is Prolific Surveys?
Prolific.co is one of the best survey sites out there, offering a great way to get involved with engaging research projects. With many survey sites like this one, people can contribute to research taking place in almost any field imaginable. The survey site is especially popular among students who are eager to gain real-world experience in their chosen field. But it's not just students who have access to such opportunities – anyone looking for some extra income or an interesting way of expanding their knowledge can take advantage of what prolific.co has to offer. In short, it's one survey site that you won't want to miss out on.
Who Created Prolific Surveys?
Prolific.co is an online survey platform created by Prolific Academic Ltd, a private limited company incorporated in England that helps researchers quickly find trustworthy research participants. With prolific.co, academics, startups, charities, and businesses can pose questions to tens of thousands of trusted participants in minutes.
The company has a strong footprint across 70+ countries worldwide and offers services such as the design of interesting surveys and data collection for relevant surveys. They are active on social media platforms such as Twitter where they invite people to come and chat with them about their experiences using the platform or provide feedback if they already use it.
Top benefits of Prolific Surveys
Here are some of the top benefits of being a Prolific participant:
Quickly find research opportunities: With Prolific, it's easy to find research opportunities that fit your interests and availability. You can browse through available studies and sign up for those suitable surveys that interest you.
Flexible working hours: With Prolific, you have the freedom to work when it suits you best. You can choose how much or how little you want to work, giving you the flexibility to fit studies around other commitments.
Make a difference: By participating in Prolific studies, you'll be helping researchers from all over the world gain valuable insights into various topics. Your contributions will help shape the future of research and make a real difference in the world!
Best Features of Prolific Surveys
Here are some of the best features of Prolific for participants:
Easy Signup: Signing up is easy and can be done in minutes. All you need to do is create an account, fill out your profile details and you're ready to start participating in studies.
Secure Payments: Payments are made quickly and securely to your PayPal account after each successful completion. You can also track all your payments from within your account dashboard.
Wide Range of Studies: There are always enough surveys available on the site, ranging from simple opinion polls to complex cognitive task designs so there's always something new to try.
Prolific Surveys Testimonials
Other Peoples Experience With Prolific Surveys
Before deciding to sign up for prolific.co, it's important to consider the pros and cons of using this platform. There are many benefits that make Prolific a great choice for those looking to earn money online by completing surveys and tasks. On the other hand, there may be some drawbacks that you should also take into consideration before signing up. In this section, we will look at the main pros and cons of prolific.co by looking at real reviews from people that have used the platform, so you can decide if they are right for you or if you should rather look out for the many other survey sites here.
The overall rating on Trustpilot is very good, which makes this site so trustworthy.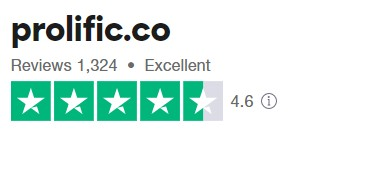 With 1300+ reviews and 4.6 as an average rating, Prolific definitely competes for the best survey site on the web.
Interestingly enough, there will always be very opposing reviews, no matter how good the product is. Before we look at the prolific reviews that rave about prolific, let's look at those prolific reviews where people are completely unsatisfied.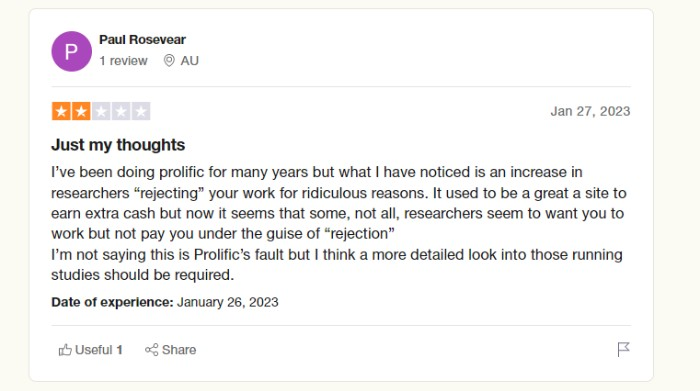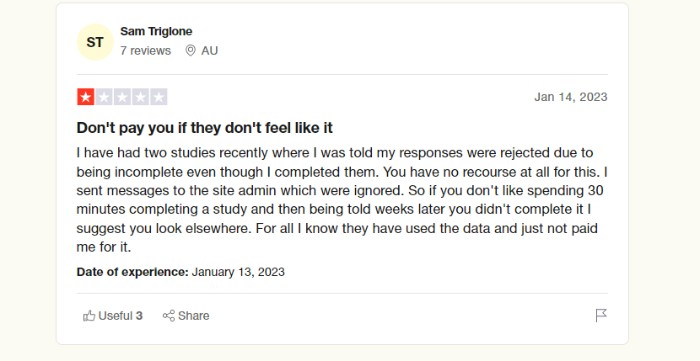 One common issue seems to be that some researchers might reject your survey answers which leads to you having wasted your time on that survey, unfortunately. So when you're trying to make money with Prolific be aware of the fact that not every time investment will equal money on Prolific. Nonetheless, here are some people that are very satisfied with their time spent on Prolific: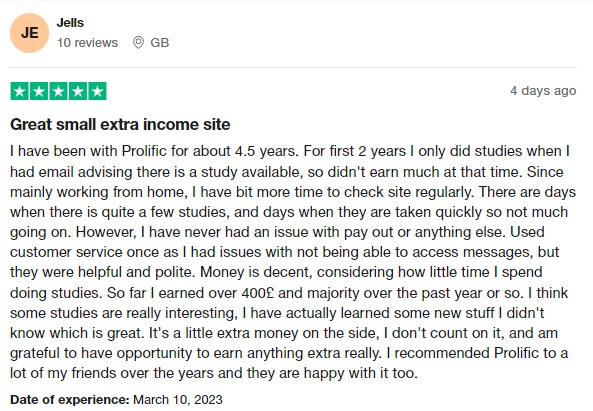 This prolific review is made by someone who has written 10 reviews overall, so it is very unlikely to be a "fake" review and she says she has been using the site for 4.5 years already. This prolific review hits home when it comes to finding out if prolific is a legit survey site or not. This person was able to make money on prolific, which probably covers the one answer you were looking for when reading my prolific review.
Prolific Surveys Alternatives
Amazon MTurk
Amazon Mechanical Turk (MTurk) is a crowdsourcing website that provides access to millions of digital tasks called HITs (Human Intelligence Tasks). Through the MTurk Worker website, workers are able to search for tasks that fit their skills and qualifications. These tasks can range from data entry and transcription to coding, analytics, and research. Workers have the flexibility to choose when they want to work and how much they would like to earn.
The MTurk Worker website also has many great features such as rating systems, communication tools, and an online community where workers can get help with their tasks. Additionally, workers can access thousands of qualification tests that allow them to demonstrate their competency levels in a variety of subjects.
Chicago CDR Virtual Labs
By utilizing the Chicago Booth Research Virtual Labs, individuals can earn money by participating in research projects. These projects may involve surveys, experiments, or other tasks related to business, economics, and social science research.
Through the Virtual Labs, researchers can access data and tools needed to complete their research project for a fee. In addition to academic research studies, researchers can also gain access to professional support from experts in specific areas of expertise.
The website claims that you will be paid $12/hour.
Testable Minds
On Testable Minds, you can earn money by taking part in experiments and surveys conducted by researchers from leading universities. You receive payments from prolific researchers for their contributions in advance, either through PayPal or bank transfer. The amount of payment varies depending on the complexity of the experiment or survey.
The platform also provides a safe and secure environment for participants to take part in studies, as it ensures that all participants are who they say they are through its identity verification system. With Testable Minds, you can be sure that your data is safe and secure while earning money at the same time.
Respondent.io is an online research platform that allows you to earn money by participating in paid studies with leading universities and companies. You can choose from a wide range of topics, schedules, and methodologies. Payments are sent out in advance via PayPal or bank transfer, depending on the project requirements. Respondent also has an ID verification system that ensures that you are who you say they are. This helps ensure a safe and secure environment for users to participate in studies. With Respondent, you can easily make money from academic research based studies while contributing to important research initiatives at the same time.
User Interviews
User Interviews is a platform that connects companies and researchers to people who are interested in making money by participating in user interviews. Companies and researchers can post user interview requests on the platform, which users can then sign up for. Participants typically get paid via PayPal or bank transfer before the interview begins. User Interviews also verify the identity of its participants, ensuring a safe and secure environment for all its users. With User Interviews, you can make easy money by sharing your opinions with leading companies and organizations.
Flash Rewards
Flash Rewards is a platform that rewards users for playing games and taking surveys. They offer a variety of tasks such as answering questions, downloading apps, and signing up for offers. Once the task is completed, users earn points which can be exchanged for cash through PayPal or vouchers from popular retailers. With Flash Rewards, you can easily make money in your spare time by getting rewarded for completing simple online tasks. It's an easy way to generate extra income on the side!
YouGov
YouGov is a survey platform that rewards people for their opinions with points. These points can then be redeemed for cash through PayPal or gift cards from popular retailers. YouGov also allows users to earn money by answering surveys, participating in market research studies and referring other people to join the platform. Each survey takes about 5 minutes to complete, making it quick and easy to make money with YouGov. With YouGov, you can easily supplement your income while helping companies and organizations better understand consumer interests and behavior.
Conclusion: Should You Try Prolific Surveys
Prolific Surveys is an amazing platform for making an extra income that pays you for doing meaningful tasks for academic research. You get paid rather quickly and have the opportunity to help make a difference in the world through your survey work. The user-friendly platform makes it easy to make money and you can easily diversify with multiple paid surveys, allowing you to maximize your income potential. People around the globe are turning to Prolific.co to support themselves financially and many testimonials indicate that this has been incredibly helpful for them. Although there are some downsides—such as occasionally long wait times for payment or restricted access in certain countries – Prolific.co remains a great survey company filled with opportunities. There are many alternatives available, however, experiencing Prolific.co firsthand is the best way to truly determine if it's the right fit for you. Let me know your experience with prolific.co below!
Please follow and like us: