Wordtune Review 2023: How Good Is It Really?
If you're looking for the ultimate website and tool to help you write a better and more engaging blog, then look no further than Wordtune. This year, it has become one of the most popular writing tools available on the market, with many bloggers opting for it as their go-to choice. But what makes Wordtune so unique? And is it really as good as everyone says it is? In this comprehensive Wordtune review, we are going to dive deep into exactly what sets this powerful software apart from its competitors, and whether or not you should invest in using Wordtune to help boost your writing skills.
What Is Wordtune?
Wordtune is a groundbreaking technological innovation that breathes life into the world of content writing and makes writer's block a thing of the past. This artificial intelligence – powered tool acts as your virtual writing assistant, intelligently understanding the context of your text, refining your sentences, and crafting the most impactful message possible. Beyond simply correcting grammar and spelling, Wordtune elevates your writing style with effortlessness, tailoring your message to communicate effectively and persuasively. The seamless integration of this tool into your writing process ensures the perfect balance of creativity, clarity, and precision in original content. Unlock the true potential of your words with Wordtune, and watch how it revolutionizes the way you express yourself in writing.
Who Created Wordtune?
The origin of Wordtune can be traced back to its creator, AI21 Labs, an innovative and forward-thinking company dedicated to revolutionizing the world of artificial intelligence. Founded by a group of experienced and knowledgeable individuals, including former members of Google's AI team and elite researchers from the tech sphere, this team has developed groundbreaking advancements in AI tools. Wordtune is just one fine example of their ingenuity and vision, aimed at enhancing the way we communicate and create content. This state-of-the-art tool came into existence after years of extensive research, learning from a vast treasure trove of textual data, and fine-tuning AI algorithms. Without a doubt, Wordtune's inception marks a significant milestone in the ever-evolving field of artificial intelligence and promises to redefine the limits of human-AI interaction.
Top Benefits Of Wordtune
Wordtune.com offers a variety of benefits to its users. Some of the top benefits of using Wordtune.com include:
Best Features Of Wordtune
Here are some of the best features of Wordtune.com:
Wordtune Pricing
Wordtune offers the following pricing plans:
Free Plan: This plan allows users to access a limited set of Wordtune's features for free, including basic suggestions for rephrasing sentences and using synonyms.
Premium Plan: Wordtune's premium plan offers users access to all of the platform's features, including advanced AI-powered writing assistance, personalized writing goals, and integration with popular writing tools like Google Docs and Microsoft Word. The premium plan is priced at $24.99 per month or $9.99 per month when paid annually.
Business Plan: This plan is designed for teams and organizations and includes advanced collaboration tools, team analytics, and dedicated support. The pricing for the business plan is not publicly available.
Wordtune Pros And Cons
In this section we break down all the pros and cons so that you can make an informed decision about whether or not Wordtune is right for you!
Wordtune Pros
On paper Wordtune has a lot of pros but let's look at the positive reviews there are on trutspilot.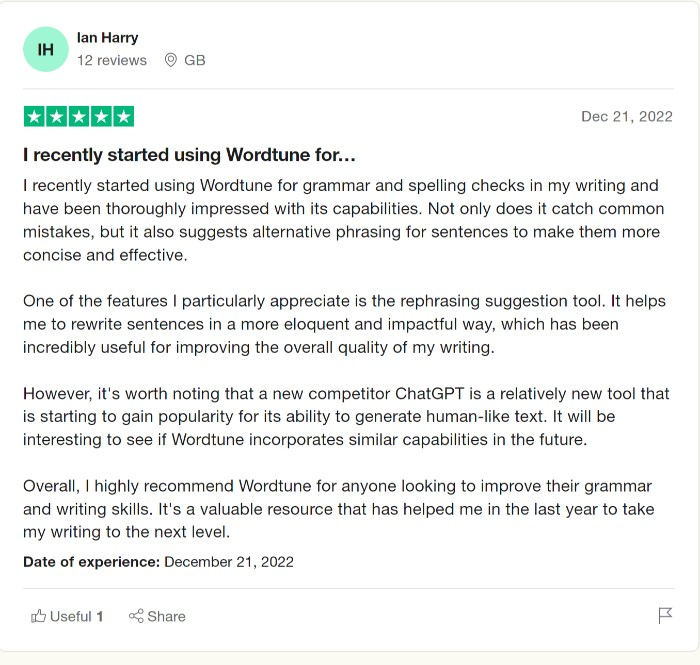 Based on this review, the Wordtune editor is great for rewriting content to improve the quality of your overall writing.
It also seems to be a valuable tool to make sure you have correct grammar in your text.
Unfortunately, I have to keep this pros section short because there is just an overwhelming and convincing lot of bad reviews we have to go over in the cons section.
Wordtune Cons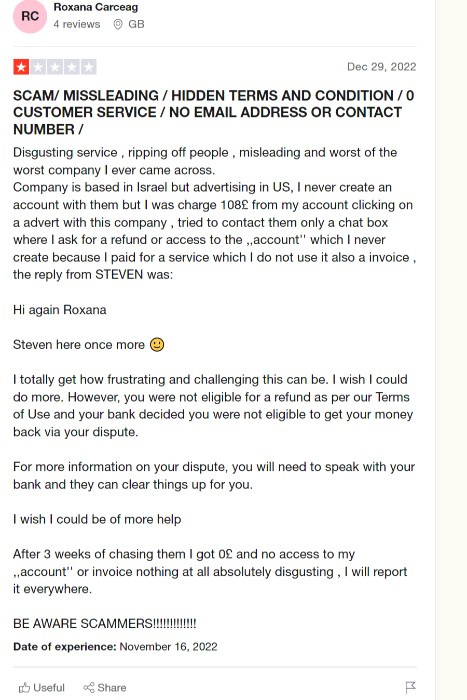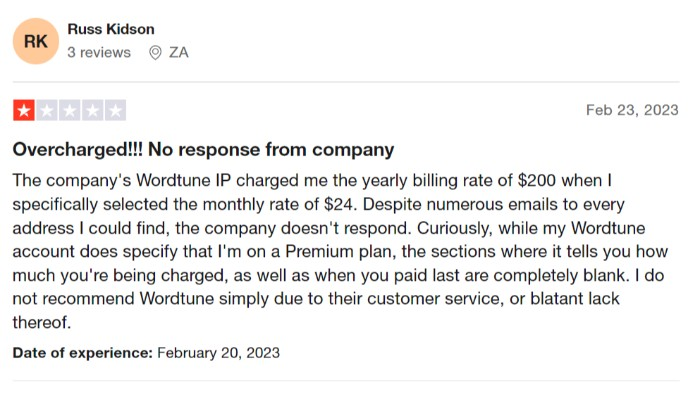 As you can see people are highly unsatisfied with the way Wordtune handles customer service. At the time of writing this, the overall Trustpilot score is only 2.2/5, so the negative reviews are pretty dominant and most of them have the same issues with the tool.
It seems as if they are very slow at responding if at all, they also seem to have pretty rough Terms of Service conditions and can potentially charge you inaccurately.
Wordtune Alternatives
Hyperwrite:

HyperWrite is an AI writing companion that helps users write faster and more efficiently. It provides tailored suggestions to help users create better blog and website posts, articles, and other written content. HyperWrite also offers powerful writing tools to help users communicate with confidence on their favorite websites without interrupting their workflow. With the help of ai writing side of HyperWrite, users can easily avoid writing errors, write product descriptions and create high-quality content quickly and easily.
NovelAI:

NovelAI is an AI storytelling tool that enables anyone to create quality literature. It offers a monthly subscription service for AI-assisted authorship, storytelling, virtual companionship, or simply a GPT powered sandbox for your creativity. With NovelAI, you can create stories, adventures, and images with unprecedented ease and accuracy. The platform also provides users with the latest updates and product information to help them stay up-to-date on the latest features and offerings.
Quillbot: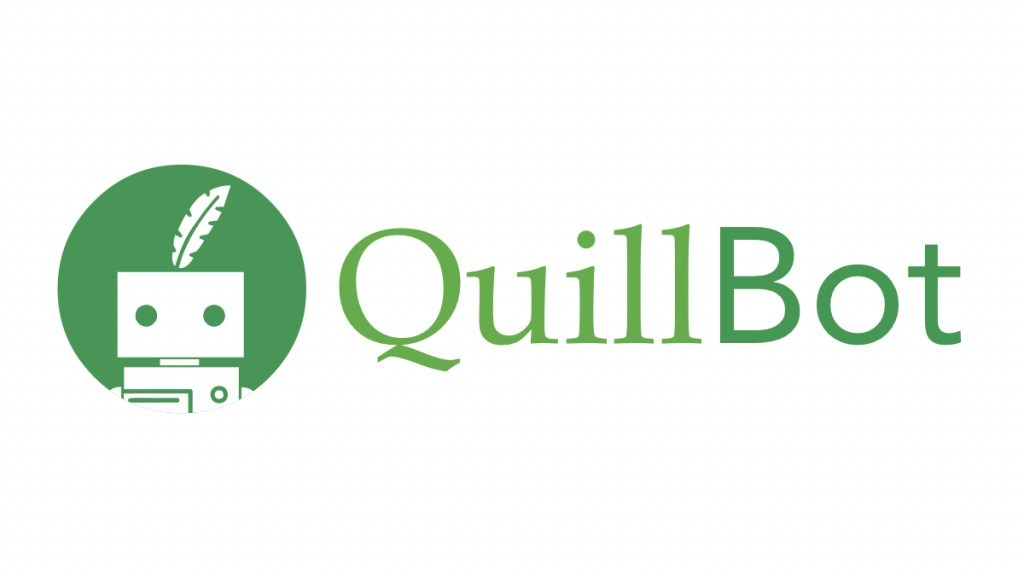 Quillbot is an AI-based writing tool that helps writers cut their writing time by more than half. It offers a range of features such as a paraphrasing tool, summarizing, grammar checking (very nice for non native english speakers), citation generation, plagiarism checking and AI copywriting assistance. Quillbot's Chrome extension makes it easy to use with just the click of a button. With its powerful AI technology, Quillbot can help you improve the content in your documents quickly and effectively.
Conclusion: Should You Try Wordtune Out?
Overall, Wordtune appears to be a capable and promising software, but it's not without its drawbacks. Despite having helpful features, there are some notable flaws, such as its lack of customer support when dealing with issues regarding billing. All in all, while Wordtune is an impressive piece of software and ideal for basic text processing tasks, others may find more value and save time in alternative ways. So before making a decision about what program to use for your word processing needs, weigh up the pros and cons for every option available – evaluate what will work best for you or your team on both short-term and long-term bases. Let me know your experience with Wordtune below!
Please follow and like us: